1 August
Eli & Rio
12.00-12.50, Unga Klara


Just like everyone else – completely different.
Dresses and mustaches!
A shirt becomes pants, pants become a hat!
How are we affected by what we choose to wear?
Join Eli and Rio on an adventure in all the rooms of the home, where they share their surprising and imaginative world. Eli & Rio is a funny performance where we take on roles and identity issues with motion, humor and openness.
For children 3-5 years, and their grownups
Producer: Teater Tre
Lill-Zlatan och morbror darling
13.00-13.35, Fri scen


A musical theatre performance about how it feels like when you have to share who you like the most in the world – and how amazing it can be!
Lill-Zlatan (Ella, as she actually is called) loves her favorite uncle Tommy. In every way, he differs from her other mothers other boring brothers. He is one of those different adults who one just want to have close. He is a sushi-eating hairdresser who travels around the world and make fun things happen. One day Ella gets competition of her favorite uncle, by Steve who comes from Trelleborg. Steve is here to stay and Lill-Zlatan is jealous!
Producer: Teater Västernorrland
Hetero
16.00-17.20, Unga Klara

A classroom performance about heterosexuality and norms. Some think heterosexuality is boring. A little gray. And a bit too normal. But it could also be really really cute!
The term "heterosexuality" is not very old. And not used very often, even today. Some know barely what it means. If you are looking for "heterosexual" online, it is most photos and texts about non-heterosexual people that show up. As if heterosexuality can not exist for itself. It requires an opposite…
Producer: Regionteatern Blekinge Kronoberg
SLICK
17.00-17.50, Fri scen


In SLICK Sofia Södergård enters the stage transformed into the dragking Qarl Qunt. We will be following on his fourth world tour both on and behind the stage. Qarl has the fastest handshake and and he LOVES pickles. With an interest in power and sexuality, he invites a crossover that lands between cabaret and performance. Through the dance styles voguing and waacking butch realness happens and challenges the masculine and feminine stereotypes.

By: Sofia Södergård in collaboration with Norrlandsoperan
Los Indeseables (world premier!)
19.00-20.00, Lilla scenen

Nicolas Rambaud uses dance as a means to convey what words can not. "Los Indeseables" is a show mixing Spanish Sign Language and contemporary dance, as a metaphor for the lack of communication or understanding between people. 

Choreography: Nicolas Rambaud
Dancers: Davicarome, José Luis Sendarrubias, Nicolas Rambaud y Javier Amor (Sign Language Inerpreter)
2 August
Seminar: Transgender in Georgia
12.00-13.30, Fri scen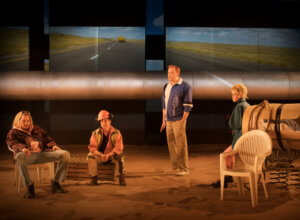 In 2010-2017 several talk shows and the tabloid press in Georgia presented young transgender persons by telling their life-, and love stories. TV companies and media made a high rating through portraying these young persons. In the last few years, three of these transgender persons has been brutally murdered and no one wanted to take the blame. Now, a few years after, ARI (Arts Research Institute of Georgia) is trying to raise awareness of the situation through a documentary play telling the story of both their lives and death. But how do you honour someone's life through a play? And how do you make something that brutal apprehendable?
Stockholms Stadsteater Skärholmen has recently showed "The Laramie Project", a play about the murder of Matthew Sheppard in 1998, the first one to be called a hate-crime. With help from the experience of "The Laramie Project" and experts from Georgia we discuss the power of documentary plays, how to portray the brutality of reality and the situation for transgenders in Georgia and Sweden today.
Participator: Aleksa Lundberg (moderator), Carolina Frände (director of The Laramie Project and artistic director for Stockholms Stadsteater Skärholmen)
Snoppen blöder (The penis is bleeding )
15.00-17.00, Unga Klara


Snoppen blöder is a trans-therapy-political chakra-ritual made by Tvillingskapet och Kvalitetsteatern.
Do you sometimes miss your breasts like they were before surgery?
Do you sometimes miss your old name?
Rituals are mandatory.
Your hips are mandatory.
Grief about the inner man is mandatory.
It will no longer be about freedom of choice.
The grief should be mandatory.
Feel how you are the boys in the sauna that actually are girls, or how you will become it again. Take the most loud and most annoying one from that thursday when we accidentally picked the sauna day for men only, and feel how you are that one, and you are actually a girl and how that feels. Does your contempt go down now? Can't you feel that the world is facing rescue?
The work is made by: Paloma Madrid, Robin N Spegel, Leopold Bojsenburg, Eddie Mio Larson, Kvalitetsteatern & Transmilitanta Brigaden.
Seminar: Queer art in Russia – how do they manage?
19.00-19.50, Fri scen

With Out of the Closet by Teatr.Doc as a starting point we discuss the situation in Russia for LGBTQ-persons today. How is it to work artistically with threats and hatred as a constant reminder of the reality? How do they work to get around the laws? How does the audience react? And what possibilities do they see for the future?
Participator: Sanna Samuelsson
Boys in trouble
20.00-22.00, Lilla scenen


"Boys in trouble" is an extravaganza of full-throttle dance, raw emotion, irreverent humor, risk-taking theater, exquisite queer partnering and intimate storytelling … all performed with Sean Dorsey Dance's signature technical precision, guts and deep humanity.
"epic work … powerful, moving, hilarious" (Miami Herald)
"stunningly gorgeous powerful movement … remarkable choreography" (Fairfax Connection)

Company: Sean Dorsey Dance
Out of the closet
18.00-19.00, Fri scen


Out of the Closet is a documentary theatre performance about gays 'coming out'. This is a first attempt in Russia to speak about this delicate situation on the theatre stage.
Sooner or later almost every gay faces the question: "How would I say it to my parents? Should I say it?".
Our characters, gays of different ages and social status, give different perspectives to this question. Some feel themselves comfortable living with two taboo: parents and job. Others in auto-homophobia attack look for "correction" in church. Some occasionally 'get caught' and keep lying without a second thought, because they know, that their parents, too, are more comfortable with the lie.
Producer: Teatr.doc
3 August
The queer and the femme – a Long table and panel discussion with Lois Weaver
16.00-17.45, Fri scen

Lois Weaver is a legendary performance artist, director and professor in Contemporary Performance at Queen Mary University in London. Weaver has extensive experience in lesbian and feminist performance practices and has been performing internationally with her company, Split Britches, since the 1980's. Weaver comes to Stockholm to share her experience and ask questions around what it means to be queer and to be femme, through her model for public discussion, the Long Table. The Long Table is a dinner party structured by etiquette, where conversation is the only course. The project combines theatricality and models for public engagement and discussion. The often-feminized domestic realm of the dinner party becomes a stage for public thought, and you are invited!
After the Long Table there will be a panel discussion exploring femmeness in a queer perspective with Lois Weaver, Ulrika Dahl and other academics and performance artists.