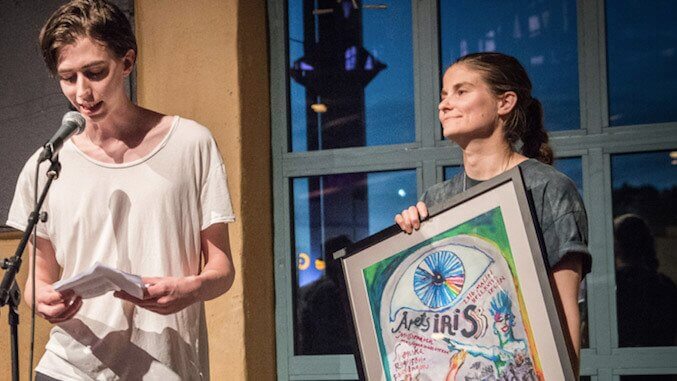 Thank you for a fantastic Swedish Biennial for Performing Arts 2017!
Norrköping welcomed us all with sunny and warm weather, and we were 1400 biennial visitors, including guests from 26 countries. This year's program consisted of 136 activities and the number of personal performance visits amounted to almost 9000.
Congratulations to the prize winner of the year, which was announced at the biennial party – Tilde Björfors (Swedish Theatre Critics Association award for theatre), Malin Hellkvist Sellén (Swedish Theatre Critics Association award for dance as well as the Swedish Directors Association director's prize Iris), The performance Paper by Marionetteatern (Swedish Theatre Critics Associations award for childrens theatre) and Clowns Without Borders (Swedish Assitej Prix d´ASSITEJ). We would also like to thank and congratulate Wuthering Heights from Moment:teater that now unofficially holds the biennial record with 40 performances in five days.
We at Scensverige get lots of e-mails from people who want to thank us for the quality of the exciting selected shows and seminars this year, and we are happy about that! There are also some that have questioned the selection and presented critique about how the selection was done. We welcome all views and think it's good that there is a discussion. Let's keep the conversation alive until the next biennial in 2019!
We would like to give special thanks to the selection committee and the program group who did a great job in designing the program this year. Thank you everyone, actors, producers and organizations that participated in performances and seminars, you make the biennial what it is – at the same time broad and sharp, fun, stubborn, loving, committed and up to date.
As for the 2019 biennial, it is not yet clear which city will host the event. We have a number of interested municipalities and institutions that have notified us of their interest, and the board of Scensverige is currently working on the issue.
We would like to thank Östgötateatern and their fantastic staff who did a great job, the Scenkonstbolaget with their amazing symphony orchestra that helped the opening ceremony become something extraordinary. Upplev Norrköping / Norrköping, Louis de Geer Konsert och Kongress, as well as the region of Östergötland.
Thank you also to the Cultural Council for the confidence to let us handle this large arrangement, and to the Swedish Institute, which made sure that many long-distance guests had the opportunity to attend. And not least the Swedish cultural councils, who contributed with both exciting perspectives and guests.
Now we are preparing to program this year's edition of Stolt Scenkonst at Stockholm Pride, the first week of August. During Växjö Pride a few weeks ago, we started the national network Stolt Scenkonst to spread and increase the availability of performing arts with LGBT perspectives. Our present constellation consists of Scensverige and the members Riksteatern, Blekinge Kronoberg Regional Theater, Danstationen in Malmö, Unga Klara, Folkteatern in Gävleborg  and West Pride. We are welcoming additions to the network, and will have meetings in Stockholm and Malmö Pride.
In July, the International Theater Institute's World Congress takes place in Segovia, Spain. More information about this and the Swedish participation will be available in the next newsletter.
Make good use of the rest of June – make sure that you see all the performances you missed, before the theaters close and the summer season begins.
Ulricha Johnson
Managing Director