Drone/Riksteatern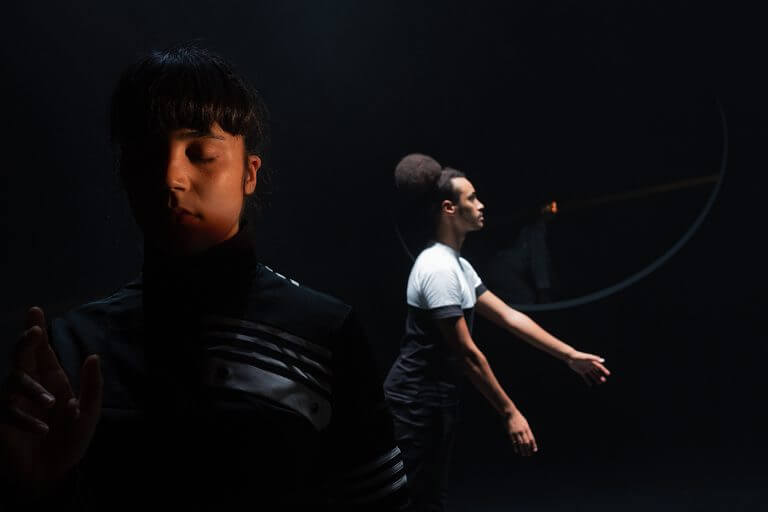 Dance performance by choreographer Erik Linghede
Riksteatern's production Drone is choreographer Erik Linghede's third piece – a dance performance which moves between fiction and reality. Drone is the sounds that exist in the paradoxical state we call silence. Though there never is complete silence, humans have created something as abstract as silence. Drone is also a metaphor for the world-citizen as a driverless and culturally programmed machine. Four dancers give the audience a sensory experience about our ability to move between fiction and reality.

– Just like my other pieces I see Drone as an existential vacuum. A state. A specific now. To me dance is a sensory experience, something that takes you on a trip, that makes you feel, something to lose yourself in. To be dissolved. In a time that needs a restart, Drone is my way of creating such a portal on stage, says Erik Linghede.

Linghede continues his experimental exploration of choreography together with the four dancers, Yared Cederlund, Katrine Johansen, Robin Sundberg och Bambam Frost. In Drone, a suggestive and surreal world is constructed, inspired by science fiction and the ability of dreams to be be coherent in their incoherent nature.

– I am inspired by slow-motion sequences and other digital effects from movies in real-time, to create movement which borders between the human and the inhuman. A play on the recognisable and the unknown, says Erik Linghede.
Drone is Linghede's third production after his debut Hold, which toured Sweden in 2015, and Idiom, which was the opening act at Kulturhuset Stadsteatern's new venue in Vällingby in 2016.
Cast: Yared Cederlund, Katrine Johansen, Robin Sundberg och Bambam Frost
Choreography: Erik Linghede
Composition: Eric Sjögren
Set design: Johanna Mårtensson
Light: Mira Svanberg
Costume: Erika Sjödin (Praktikant StDH/SKH)
Mask: Anna Olofson
Choreography assistant: Yared Cederlund
Producer: Helena Ringvold