Hamlet/Theater Galeasen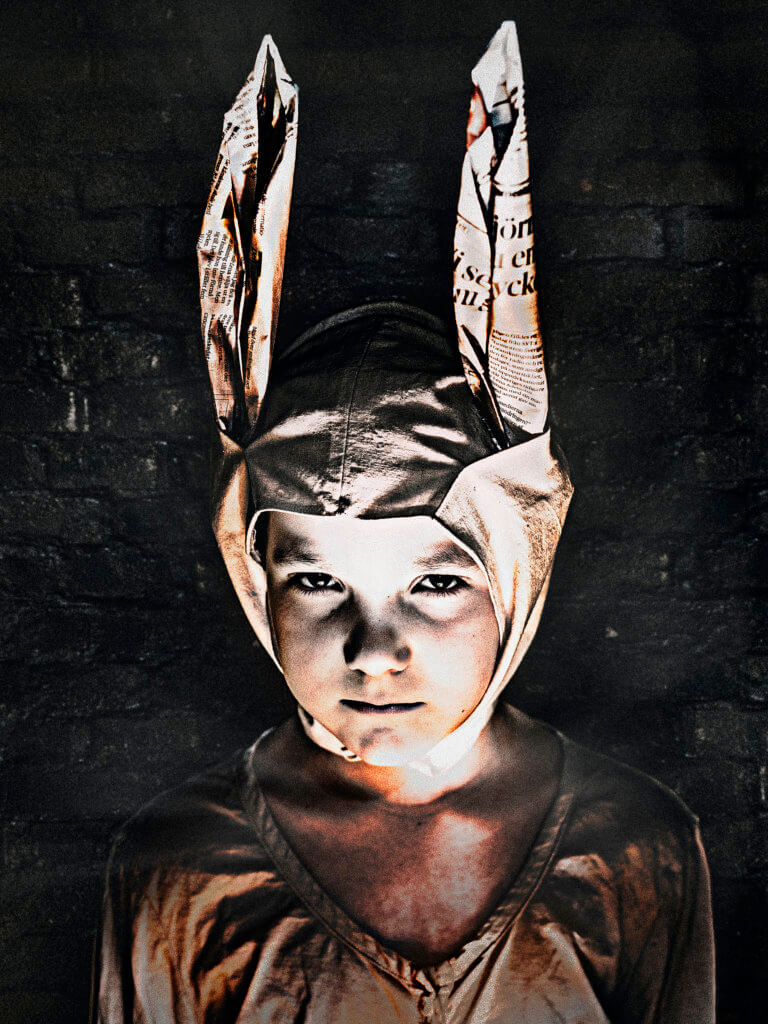 The time is out of joint
Jens Ohlin's and Hannes Meidal's new version of the archetypical Shakespeare play premiered at Teater Galeasen in Stockholm in March 2017. The duo Meidal/Ohlin began working together in 2006 on Teater Galeasen's and Strindbergs Intima Teater's co-productions of Kafka and De bergtagna.
Hamlet was awarded Svenska Dagbladet's Thaliapris 2017 as well as Svenska teaterkritikers förening's Teaterpris 2017 with the motivation:
When time feels out of joint, a brand-new Hamlet emerges to set it right. At Teater Galeasen in Stockholm, director Jens Ohlin and actor Hannes Meidal turn a 17th century classic into a contemporary play written in sharp and beautiful blank verse, inspired by William Shakespeare and the current political situation in Sweden as well as the world at large. Stubbornly refusing all shortcuts, they create nightmarish, high quality theater about our time.
The production was filmed and screened at cinemas all over Sweden and broadcasted on Swedish national television in the fall of 2017. A new screening of the film version will take place during Scenkonstbiennalen 2019 in Sundsvall and Härnösand.
Oh, my God! There you are! You are alive! I had such a repulsive dream. My uncle Claudius was suddenly released from the dungeon where he was held captive. I dreamed that my uncle stood in the Tower, and that he threw my father into the abyss. I dreamed that my father was dead, and that Claudius seized the throne to the joy of the people. I dreamed that I, upon receiving the news, broke down and was buried inside myself, paralyzed by an atrocious, a nameless terror. I dreamed that I slept for a thousand years, but could not find rest in my sleep. I sought you, I screamed: where is she? You must wake me, I must know that she is still there, that no evil has occurred. And then you came and lay your hand in mine.
Who doesn't love Hamlet? Who doesn't want to be in his proximity? Imagine if I was like him: a man of wise thoughts and clever theories, living his life with a furrowed brow, his nose deeply buried in difficult books, engaging in questions that soar far above the reality in which we mortals have been put to live.
By: Jens Ohlin, Hannes Meidal
Director: Jens Ohlin
Cast: Agatha Bergman Blücher, Yngve Dahlberg, Gerda Englund, Naima Josefsson, Hannes Meidal, Alexander Ohakas, Simon Reithner, Per Sandberg, Monica Stenbeck
Set design: Jens Ohlin, Joakim Bayoumi Karlsson
Light design: Linus Fellbom
Costume design: Matilda Hyttsten
Makeup design: Ulrika Ritter
Props: Yvonne Brax Kjellström
Music: Foad Arbabi
Sound design: Anette Tarstad
Constructor: Kaj Primus
Producer: Maria Edwall, Joakim Bayoumi Karlsson
Artistic Director Teater Galeasen: Sophia Artin

Hamlet is a co-production with The Royal Dramatic Theatre