Long table discussion NYC 2020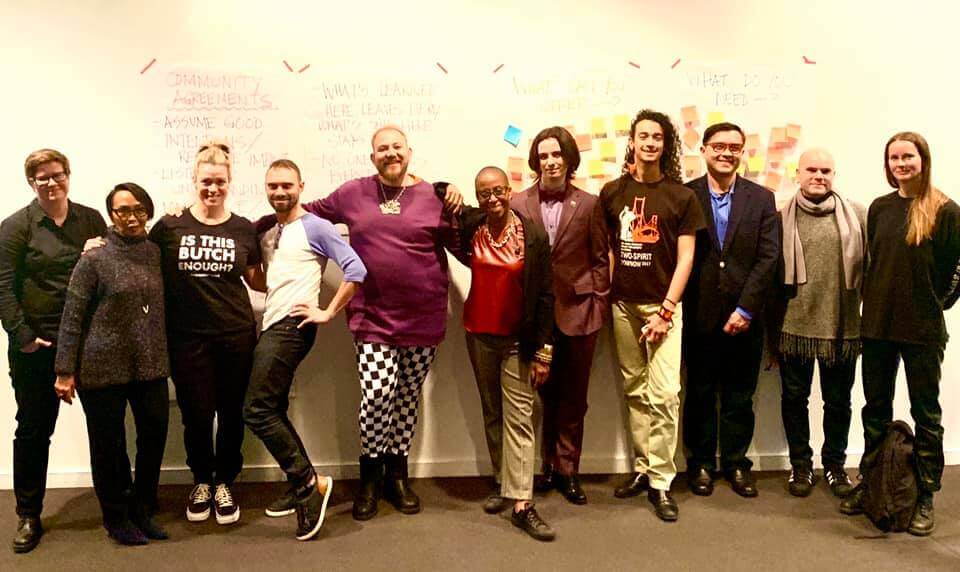 In January, we held a Long Table talk about Proud Performing Arts in collaboration with our American sister organization Theater Communications Group. This was the fourth official international meeting in the work of deepening contacts and experiences for people and organizations working with LGBTQ perspectives, both on and behind the scenes. We had several interesting participants from both Sweden and the USA, and this was the first time we held an event in Scandinavia House in Manhattan.
Participants: Emilya Cachapero (US), Ulricha Johnson (Swe), Sean Dorsey (US), Beatrice L Thomas (US), Shirley Harthey Ubilla (Swe), Kevin Seaman (US), Nora Monahan (US) and of course all of you!

Arranged by Swedish Performing Arts Coalition (SPAC) in association with Theatre Communication Group (TCG)

Emilya Cachapero
is the director of Theatre Communications Group's Artistic and International Programs, has been active in the global arts community for more than 30 years and oversees TCG's grant programs, international programs and selected special projects which have included Beyond Orientalism, a national initiative to address the use of yellow face, brown face and whitewashing. For 11 years she was a member of the Executive Board and Council of International Theatre Institute (ITI) Worldwide and was a US National Commissioner to UNESCO from 2002 – 2008. She was instrumental in creating the San Francisco Ethnic Dance Festival and was its founding producer for the first two years of the program.
Ms. Cachapero received her Bachelor of Arts degree in creative writing from San Francisco State University and an honorary M.F.A. from the American Conservatory Theater. She is an alumna of the James P. Shannon Leadership Institute and artEquity.

Ulricha Johnson (she/her/hers)
is the Managing Director of the Swedish Performing Arts Coalition, the largest Swedish professional performing arts organization. With member organizations all around Sweden she manages the biggest national festival The Swedish Performing Arts Biennale, and is President of the Swedish Center of International Theatre Institute (ITI) Worldwide, founded by UNESCO in 1948. She founded the Proud Performing Arts LGBTQ+ International Network at the ITI World Theatre Congress in 2017, and has created queer art festivals in different Swedish cities, including Stockholm, inviting many international guests. It´s evolving into a global network that aims to empower, encourage and elevate performing arts with a LGBTQ+ perspective and artists working with the matter. The network is a platform for solidarity and inspiration and strives to bring forward the different art expressions and conditions for LGBTQ+ people all around the world. Ms Johnson has a Bachelor of Fine Arts Degree in acting and performed all over the world including NY in Robert Wilson´s A Dreamplay. She is also a translator of musicals and opera, and has translated 30 productions, e.g. Fun Home, Avenue Q, Into the Woods and La Traviata.
Kevin Seaman (he/him, they/them)
is an interdisciplinary artist, cultural worker and drag queen (LOL McFiercen) with 15 years experience working with Bay Area and national arts communities. Kevin received the 2017 Americans for the Arts Emerging Leader Award, was an inaugural Association for Performing Arts Professionals' Leadership Fellow, and received the 2019 Theatre Bay Area Legacy Award for their work helping increase arts funding in San Francisco on the Nov 2018 Yes on Proposition E campaign. Kevin's creative work exploring queer identity and drag culture at the intersection of gender and sexuality has been presented at The Stud, CounterPulse, YBCA, Frameline, the Tank NYC, the Austin International Drag Festival, SATTELITE ART SHOW Miami, the National Queer Arts Festival, Stockholm's Stolt Scenkonst, the Atlantic Center for the Arts, and Yale School of the Arts. Additionally, Kevin has led sessions focused on queer arts and community for APAP|NYC, Grantmakers in the Arts, Americans for the Arts, and National Performance Network's annual conference.
Beatrice Thomas
is the principal consultant at Authentic Arts and Media. Thomas is a creative producer, cultural equity strategist, and inter-disciplinary artist, whose social practice lies at the intersection of arts, equity, and action. Thomas nationally advances the work of queer, trans, and POC artists. And for nearly a decade, they have worked in a number of sectors in the San Francisco Bay area, dedicating her career to art, cultural equity and professional development for individual artists. Previously they held senior and lead consulting positions at San Francisco Arts Commission, foolsFURY Theatre, SAFEhouse Arts, Theater Bay Area, WolfBrown and Western Arts Alliance. They are a consultant and cultural strategist for national EDI initiatives including L.A.N.E. Leveraging Arts Networks for Equity, AIRSPACE QTPOC Arts Leadership Fellowship, and The Boston Foundation Live Arts Mentorship Program. Thomas is a and social justice drag queen and the Bay Area Chapter Director of Drag Queen Story Hour, a program that brings drag queens to read stories at public libraries. Beatrice's performance and installation work has graced the stages of the deYoung Museum, SF PRIDE Mainstage, CounterPulse, SomArts Cultural Center and the Institute of Advanced Uncertainty and has shown in galleries across the United States. Their current show "Black Benatar's Black Magic Cabaret" rolls drag, circus, magic, and cultural equity story-telling into a hilarious and inclusive cabaret of irreverent proportions. They are an inaugural APAP Leadership Fellow and a 2020 APAP Conference Co-Chair. They received her MFA from the University of Texas.

Shirley Harthey Ubilla
Born in Chile and raised in Sweden. "Being trained as a street dancer, the genre is evident in all my work. Yet, over the past few years her focus has shifted, from emphasizing freestyle and traditional expressions within street dance to being influenced by a broader movement practice and various performative contexts". As an artist and an educator Shirley explore questions regarding gender, whiteness and intersectionality: "As a female, non-heterosexual, non-white body, I am highly aware of the fact that bodies matter, as do their performances of gender, race, class, functionality and sexuality. The lived flesh experience of a non-conforming body, on and off stage, is one that influences all of my artistic and educational work". Recent work includes her debut solo performance Abject of Desire presented in Dansens Hus in Stockholm (2018) and reperformances of Marina Abramović Freeing series and Art must be beautiful, Artist must be beautiful at Moderna museet in Stockholm (2017). She is also a member of the dance and performance group. JUCK. that made its breakthrough in a 2013 viral video JUCK (2013) where they pushed the limits of how the female body is allowed to express itself and make a statement.

Sean Dorsey
is an award-winning San Francisco-based choreographer, dancer and writer. Recognized as the U.S.' first acclaimed transgender modern dance choreographer, Dorsey has toured his work to 30 US cities. Dorsey has been awarded five Isadora Duncan Dance Awards and the Goldie Award for Performance. He has been named in Dance Magazine's 25 To Watch and named "San Francisco's Best Dance Company" (SF Weekly). Most recently, Dorsey was awarded a Dance/USA Artist Fellowship.

Dorsey has been awarded major support by the National Endowment for the Arts, National Dance Project, National Performance Network, Dance/USA, California Arts Council, Creative Work Fund, Kenneth Rainin Foundation, Phyllis C. Wattis Foundation, Fleishhacker Foundation.

Nora Brigid Monahan (they/them/their)
is a playwright, performer, and arts administrator based in New York City. Best known for writing and starring in the cult musical DIVA: Live From Hell (music & lyrics by Alexander Sage Oyen) and the LGBT family comedy Aunt Jack, Nora's work has been produced on stages across the United States. Since 2018, they have worked in the development department at The Lark Theatre, a creative laboratory dedicated to supporting marginalized and underrepresented artists as they make new work and tell new stories.
Swedish Performing Arts Coalition (SPAC) is Sweden's largest member organization for the performing arts sector and is a national competence centre to promote professional performing arts domestically and abroad. By collaborations, partnerships, sharing knowledge and exchanging ideas our aim is to deepen the understanding of the art form and shaping the possibilities of tomorrow. Together with our members we are a voice for artistic freedom and diversity of the arts and our mission is to safeguard the freedom of expression and to be a partner in the global dialogue of the arts. SPAC is the Swedish Centre of International Theatre Institute (ITI)
https://scensverige.se/en/
Theatre Communications Group (TCG) exists to strengthen, nurture, and promote professional theatre in the U.S. and globally. Since its founding in 1961, TCG's constituency has grown from a handful of groundbreaking theatres to over 700 Member Theatres and affiliate organizations and nearly 10,000 Individual Members. Through its Core Values of Activism, Artistry, Diversity, and Global Citizenship, TCG advances a better world for theatre and a better world because of theatre. The Global Theater Initiative, TCG's partnership with the Laboratory for Global Performance and Politics, serves as the U.S. Center of the International Theatre Institute (ITI).
www.tcg.org