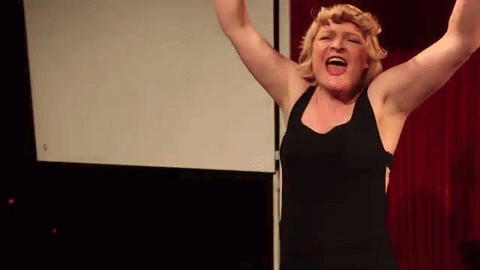 Period (Mens)
Teater TamauerTeater Bråddgatan 34
Friday May 26, 18:00-19:05
Friday May 26, 21:00-22:05
Saturday May 27, 17:00-18:05
Saturday May 27, 20:00-21:05
Sunday May 28, 13:00-14:05A performance that breaks taboos surrounding the menstruating body!
Mixing humour and seriousness, Mens shines a light on the obvious and questions the things taken for granted when it comes to menstruation. It investigates menstruation as a symbol of the transition into adulthood and how a menstruating body is rendered a loser in a patriarchal society.
History is crawling with male scholars making claims about menstruation, but what form would society take if these men were themselves menstruating?
It is an informative and personal performance, based on the comic anthology Kvinnor ritar bara serier om mens (Women just draw comics about menstruation) and the personal experiences of the ensemble. It includes two actors, one angry period-monster – and an omnichord! It is dedicated to all of you who are on or have had your period, all of you who are waiting for it to come, and all of you who will never get it….
Mens premiered at Hagateatern in Gothenburg in 2015, followed by a nationwide tour.
The performance is aimed at an audience aged 15.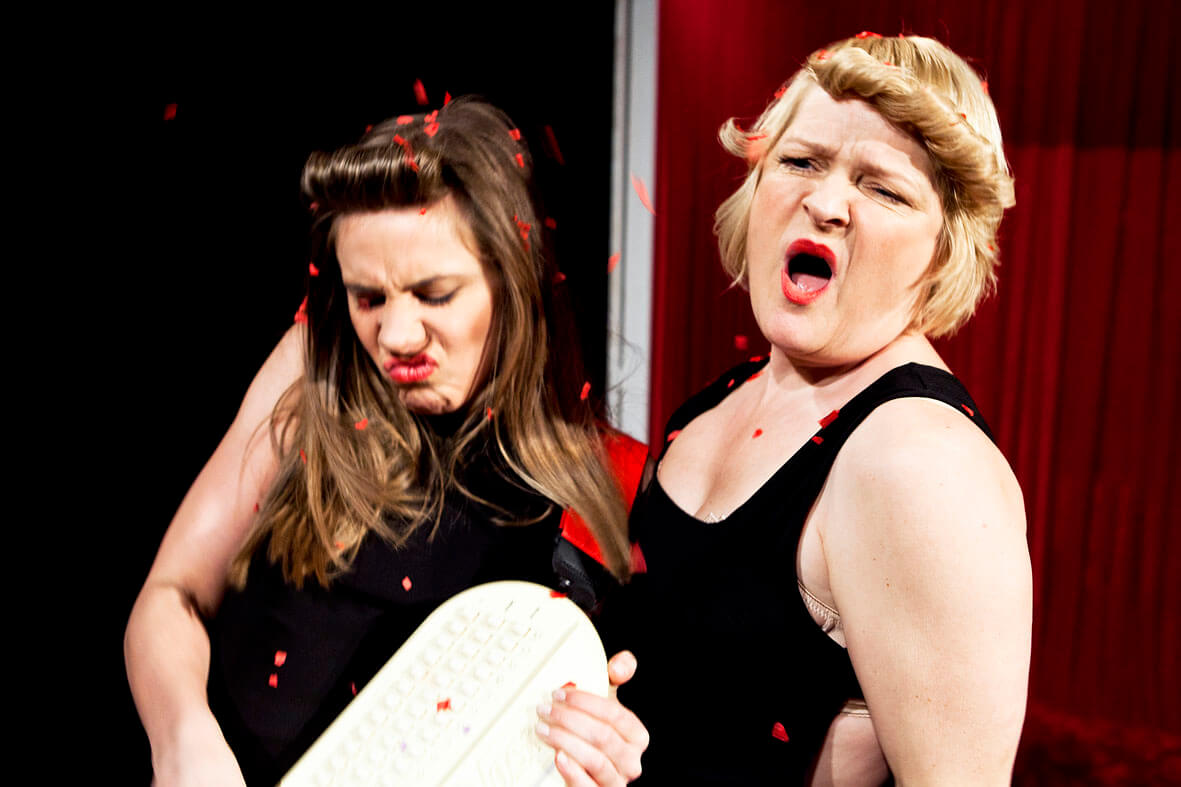 Photo: Lina Ikse
By: Anders Friberg, Helena Gezelius and Åsa Gustafsson
Original text: Anders Friberg, Frida Ulvegren*, Helena Gezelius, Lisa Rydberg*, Lotta Sjöberg*, Sara Olausson* and Åsa Gustafsson
Director: Anders Friberg
Stage and Costume design: Heidi Saikkonen
Lighting design: Ida Gustafsson
Music: Lotta Wenglén
Lyrics: Åsa Gustafsson and Helena Gezelius
Voice: Jan Ericson and Ida Gustafsson
Carpentry: Staffan Lissbrant
Producer: Gustav Åvik
Cast: Åsa Gustafsson and Helena Gezelius
*from the anthology Kvinnor ritar bara serier om mens