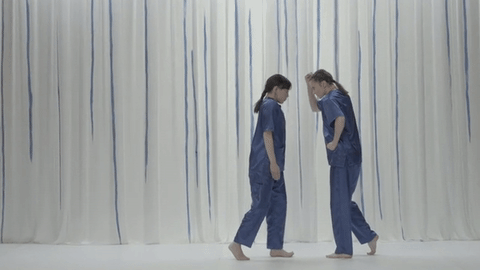 Shapes of States
Stina NybergFlygeln
Wednesday May 24, 19:00-20:15
Thursday May 25, 13:00-14:15
Thursday May 25, 19:00-20:15We are seated on the first row in a large square room with a black floor designed to host performances. In the middle of the room hangs a white drape painted with long black lines. The drape swings slowly from side to side, dreamlike, as if there was a breeze on stage. A soft light floods across the floor, spilling over onto the first three rows. The people seated in the back are wondering what I am taking about, my voice reaching them from the front. I am here to interpret a dance performance for you, a tale about that which is visible on stage, but also a story in itself.
Shapes of State traces the body's political history by connecting the public health ideals of the 1920's with the ideals of exercising that preside over society today. In what ways are our bodies shaped by everyday activities such as working and exercising, and how does this form our view of what is considered a healthy society?
Drawing on Meyerholds biomechanics, the dancers in Shapes of State develop a movement language far removed from the ideas of natural behaviour. In a series of dance pieces, they tell a fragmented tale of the trust we place in the disciplining of flesh.
The performance will be interpreted for the visually impaired in order to offer multiple perspectives on how we can understand the form and content of the dance. The dancers perform an interpretation, which describes what is happening on stage, both in reality and in the imagination.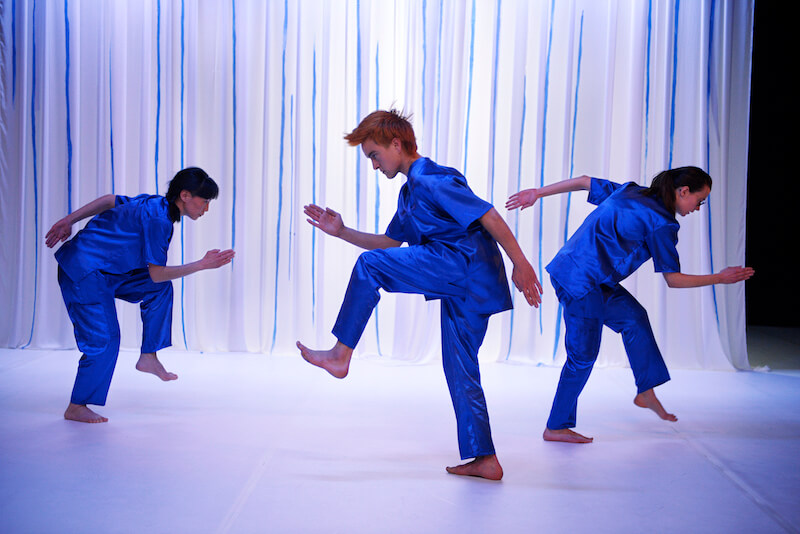 Fotograf: José Figueroa
Choreography: Stina Nyberg
Stage design: Tove Edlund Dreiman
Costume design: Tove Edlund Dreiman and Sandra Leandersson
Sound design: Josefin Hinders
Dramaturgical support: Manon Santkin
Producer: Sara Bergsmark / MDT
Dance and interpretation for the blind: Sandra Lolax, Sindri Runudde, Andrea Svensson and Stina Nyberg
Shapes of States – trailer med musik from Stina Nyberg on Vimeo.