The Rite of Spring & Henri Michaux: Mouvement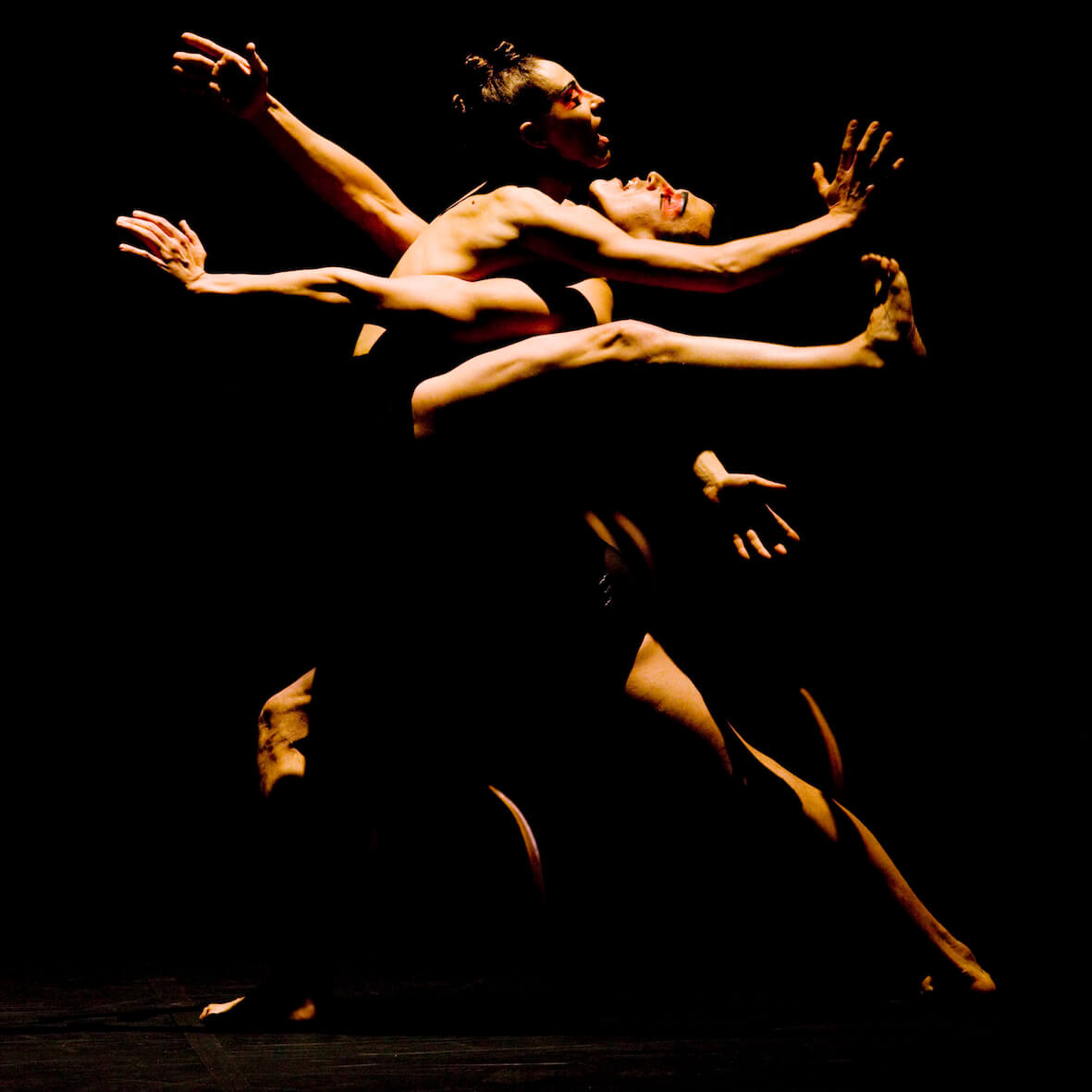 The Rite of Spring & Henri Michaux: Mouvements
Compagnie Marie ChouinardLouis De Geer Konsert & Kongress
De Geerhallen
Friday May 26 maj, 20:00-21:30
Saturday May 27 maj, 19:00-20:30In Marie Chouinard's work, The Rite of Spring occupies a special position. In choosing to reexamine this powerful hymn to life, she has created her first choreography based on a musical score. Igor Stravinsky's. The Rite of Spring explores a New World and marks the entry of dance into modernity. In this avant-garde work, Marie Chouinard again finds an original pulsation that is essential to her movement. Far from contradicting the rhythm of her dance, the cadence and force of the music inspire, accompany and energize her, forming both the echo and the musical counterpoint of an organic, vigourous and vivid choreography.
For Marie Chouinard, all forms are the movement through space of a specific vital energy. Unlike previous choreographers working with Stravinsky's piece, she constructed her Rite around solos, seeking to awaken in strong, clear movements the intimate mystery of each dancer.
There is no story in my Rite, no development, no cause and effect. Only synchronicity. It is as if I were dealing with the very moment after the instant life first appeared. The performance is the unfolding of that moment. I have the feeling that before that moment there was an extraordinary burst of light, a flash of lightning. – Marie Chouinard

In 1980, Marie Chouinard discovered the book Mouvements by Henri Michaux (1899-1984). In 64 pages of India-ink drawings, a 15-page poem and an afterword, Mouvements presents multiform figures that Marie Chouinard took pleasure in reading literally, left to right and page by page, as a choreographic score. She then proceeded to decrypt the great artist's drawings and set dance to these "movements of multiple inkjets, a celebration of blots, arms moving up and down the scales."
The book's transition to dance has been done "word for word", for even the poem in the middle of the book, as well as its afterword, are included in the choreography.
The drawings are projected in the background, allowing spectators to do a simultaneous personal reading of the Michaux score. Echoing the visual presentation of a white page with black drawings, performers dressed in black dance on a white floor.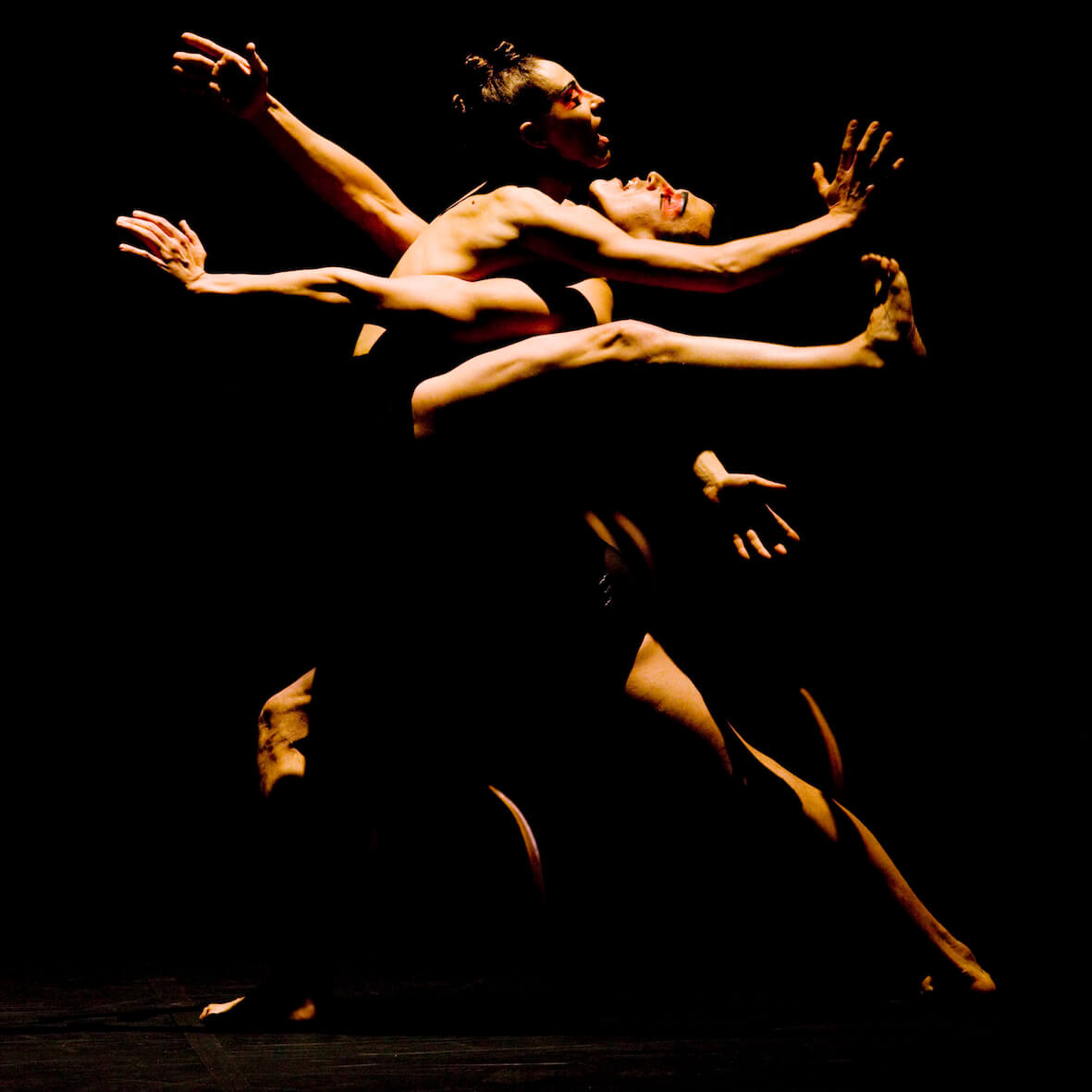 The Rite of Spring Photo: Nicolas Ruel / Dancers: Carol Prieur, James Viveiros
The Rite of Spring
Concept, Choreography and Artistic Direction: Marie Chouinard
Music: The Rite of Spring, Igor Stravinsky, 1913. By arrangement with Boosey & Hawkes, Inc., publisher and copyright owner, 35 minutes.
Dancers: Charles Cardin-Bourbeau, Sébastien Cossette-Masse, Catherine Dagenais-Savard, Valeria Galluccio, Motrya Kozbur, Morgane Le Tiec, Scott McCabe, Sacha Ouellette-Deguire, Carol Prieur, Clémentine Schindler
Lighting: Marie Chouinard
Costumes: Liz Vandal
Props: Zaven Paré
Make-up: Jacques Lee Pelletier
Hairstyles: Daniel Éthier
Henri Michaux: Mouvements
Choreography and Artistic Direction: Marie Chouinard
Original music: Louis Dufort
Poem, Post face and projected drawings: Henri Michaux, from the book "Mouvements" (1951), with the permission of the right-holders Henri Michaux and Editions Gallimard
Dancers: Charles Cardin-Bourbeau, Sébastien Cossette-Masse, Catherine Dagenais-Savard, Valeria Galluccio, Motrya Kozbur, Morgane Le Tiec, Scott McCabe, Sacha Ouellette-Deguire, Carol Prieur, Clémentine Schindler
Sound environment: Edward Freedman
Lighting, Set Design: Marie Chouinard
Costumes: Marie Chouinard
Hairstyle: Marie Chouinard
Translation: Howard Scott
Voice: Gerard Reyes