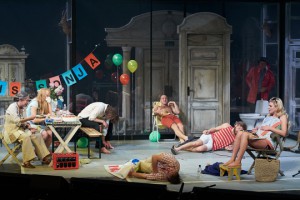 Today, it's the opening of Tampere Theatre Festival, the oldest and the largest professional theatre festival in the Nordic countries.
From Sweden, Uppsala Stadsteater, has been invided to perform Chekhov's Uncle Vanya.
In this version, there is no rural estate but a hotel, no tea but Estonian vodka, and the climate change is more destructive than ever before. However, one thing remains the same: human nature. The characters trudge through their delusions and lies as sluggishly and distinctively as a hundred years ago. An ingenious and bold modern adaptation of a classic play!

Uncle Vanya performs August 4 and 5.