Welcome To Swedstage Online 2020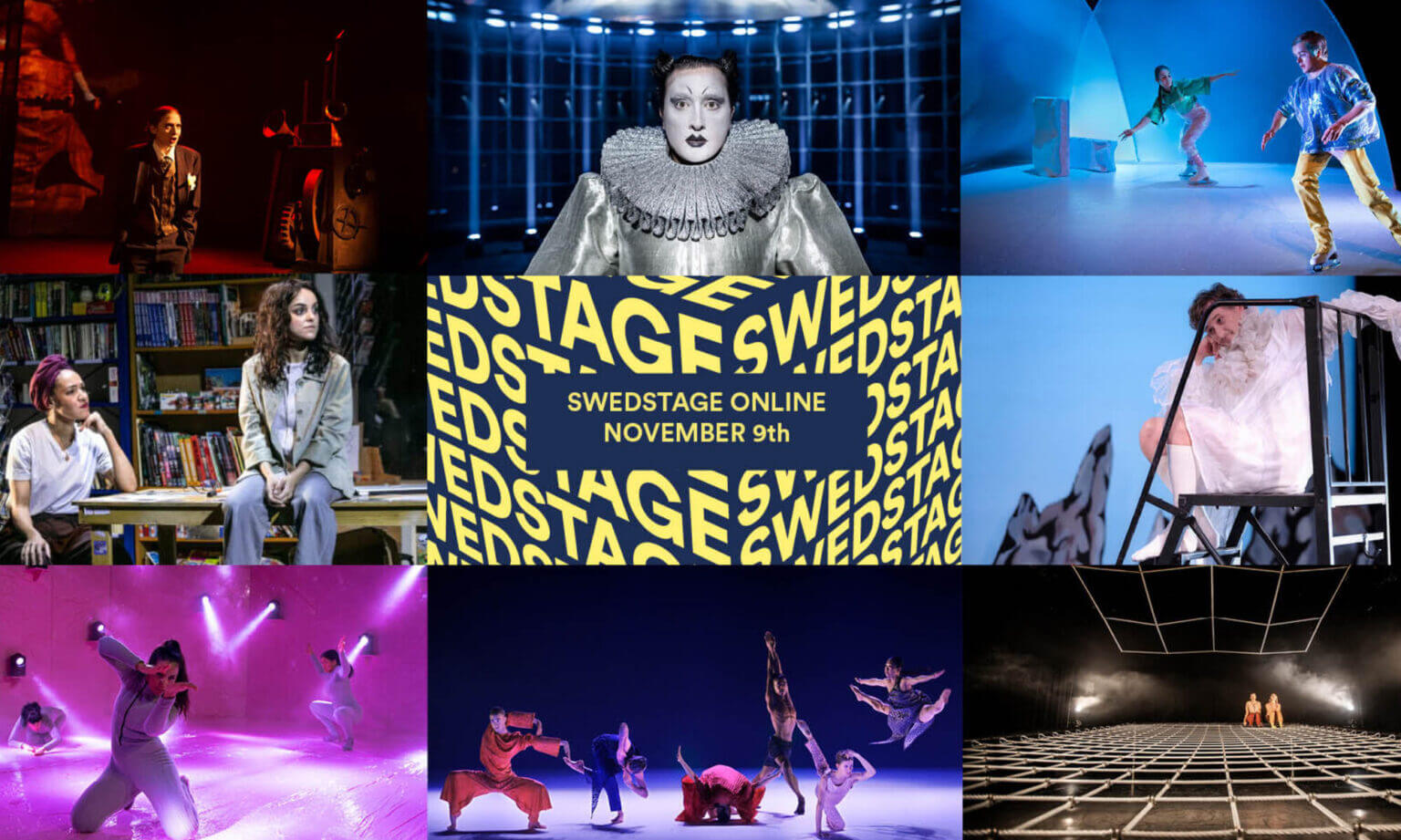 Swedstage Online 2020 – November 9th at 2 pm CET.
All films from Swedstage online 2020 is available on the Swedstage webpage.
---
The performances 2020 are a selection of the finest Swedish productions for children, youth and adults. There will be a great variety in the program with a range of different genres, which enables the audience to get an idea of the width of Swedish performing arts of today. See eight pitches from current selected productions and meet with actors, choreographers, and directors.

As part of Swedstage Online we will also present a panel talk: Create or Decrease? How can art defy shrinking freedom? In a conversation with Swedish and foreign artists about freedom of speech and democracy we highlight the decreasing space of bold performing arts, that challenge power and norms. Can art be used as resistance? Can art break down walls? Can art pave the way forward? Learn how our peers around the world deal with censorship, self-censorship and threats. After the panel talk we invite you to an exclusive webinar where you can chat directly with Dr. Srirak Plipat, the Executive Director of Freemuse.

PROGRAM
2 PM CET SWEDSTAGE ONLINE 2020 SELECTED PERFORMANCES
2:45 PM CET PANEL TALK: CREATE OR DECREASE? HOW CAN ART DEFY SHRINKING FREEDOM?
3:30 PM CET EXCLUSIVE WEBINAR WITH DR. SRIRAK PLIPAT, THE EXECUTIVE DIRECTOR OF FREEMUSE
Selected performances 2020
Artistic advisors 2020
Theresa Benér
Swedish theatre critic, author, specialising in contemporary European theatre. Chairman of The Swedish Association of Theatre Critics.
Sara Bergsmark
Producer at MDT (Modern Dance Theatre), an international co-production platform
and a leading venue for contemporary choreography.
Pelle Hanaeus
Swedish actor, director and pedagogue. He has been Artistic Director of Regionteater Väst and President of Clowns without Borders. He lectures and gives workshops ingender aware performance for theatres and universities.
More information: www.swedstage.se
Read the newsletter about Swedstage Online 2020
Swedstage is an initiative from
Swedish Performing Arts Coaliton and ASSITEJ Sweden
Swedstage is financed by the Swedish Institute, the Swedish Arts Council, the City of Stockholm, Region Stockholm and The Swedish Arts Grants Committee.