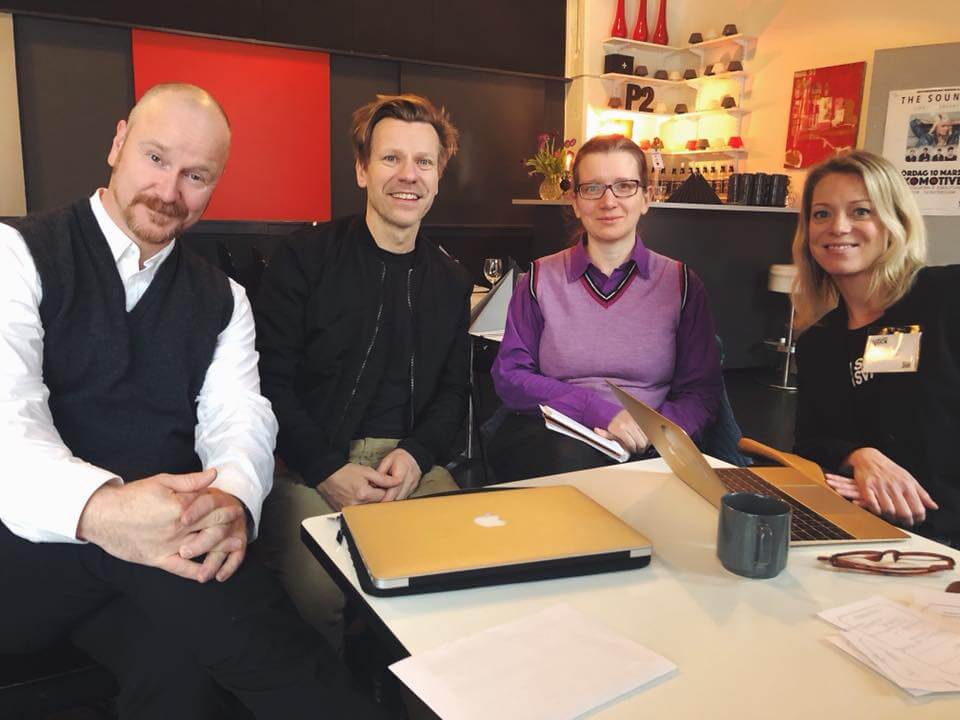 A lot going on at Scensverige- Swedish ITI right now!
First of all, we can finally reveal the locations for The Swedish Biennial for Performing Arts 2019: Sundsvall and Härnösand! There we will arrange the biggest performing arts festival in Sweden, 14-19 of May, together with Scenkonst Västernorrland. We are so excited to get to these beautiful and creative cities, where all the possibilities for a grand biennial exist. The selection committee, consisting of Karin Helander, Mario Castro Sepulveda, Signe Landin, Joakim Rindå, Lis Hellström Sveningson, Jan Dzedins, Dritero Kasapi, Anneli Dufva and Nina Björby are currently watching and discussing.
The boards of Scensverige and Assitej have now appointed a selection group for Swedstage. It consists of Anna Berg, Cecilia Suhaid Gustavsson, Anna Håkansson and Bengt Andersson. If you want to propose a performance created in Sweden that is suitable and ready for an international market, do it here. Our fourth edition of Swedstage is taking place in Stockholm on 21-24 October 2018.
At the cultural politics convention Folk och Kultur in Eskilstuna we arranged a panel talk entitled "It's here, it's queer – how do we develop performing arts with LGBT+ perspective?" , in which I moderated a conversation focused on children and young people, with Gunilla Hedemo, Pelle Hanaeus and Ossi Niskala.
I will also be part of a panel talk on the cultural political situation in Europe at Örebro Länsteater on February 10, in connection with the performance of "Press Conference" by Harold Pinter. The performance is part of Folk och Kultur, and will be played simultaneously in 23 cities in Sweden, read more about the event here.
Reports from Unesco and Freemuse shows aggravated threats, violence and violations of artistic freedom against artists in the world in 2016. The international survey shows that Iran is the country where the situation is worst. In 2016 nineteen artists were detained and six of them was prosecuted. In addition, several cases of persecution and attacks were reported. After Iran, Turkey, Egypt, Nigeria, China and Russia follow. Unfortunately, we have received frequent reports of worsened situations in several places in 2017, which means that the numbers are likely to rise even more next year. In the beginning of 2018  we received the news of the recent extension of the Russian director Kirill Serebrennikov's house arrest three months from 19th of January when he was supposed to be released. The strong Metoo movement will likely result in more women reporting sexual harassment, which will raise awareness, and reduce the amount of unrecorded cases. From our Eastern European colleagues, we also get reports of increased political governance of established institutions, leading to a high degree of self-censorship. It's alarming and something we need to be observant of. Our colleagues also need to know that we see what is happening and that we support them. Read ITI's Action Committee for Artists Rights newsletter. 
Recently, we send out announcements to all ITI centers around the world to actively join a global group for performing arts with LGBT+ perspectives. The group was initiated by Scensverige at the ITI World Congress this summer, and right now, our skilled project management trainees Katinka Richter and Maja Alasalmi work with these initiatives. At a conference in Brussels this autumn, we met representatives of ILGA Europe (International Lesbian Gay Association) who wants to be part of our network, and at the International APAP Conference in New York in January, we got in contact with a US Trans Gender Forum for performing artists. We'll be back with more info!
As for the Swedish Pride Performing Arts Network, we are currently looking for ideas and suggestions on productions for this year's Pride festivals. Read more here (Swedish).
Influence the distribution of EU funds! Scensverige is part of the European network On the Move, which now wants to know what touring artists and organizations need from a new European mobility fund. The survey takes 15 minutes to answer and is available in several languages. The last day of the survey is February 20th. Answer the survey here.
Ulricha Johnson
Managing Director Scensverige – Swedish ITI