Jogging / Hanane Hajj Ali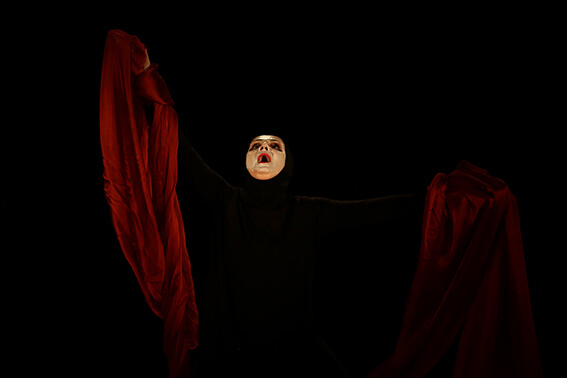 Hanane, a Lebanese actress and citizen aged fifty-something, does her daily exercise to prevent osteoporosis, obesity and depression. While working out, she revisits her dreams, desires, hopes, and disappointments, as well as her characters and roles—mostly a series of parts as Medea—with whom she shares some common features. The effects of this daily routine are contradictory: the hormones in her body are stimulated with dopamine and adrenaline, which shift between destructive and constructive, like a city which is built to destroy, and vice versa.
Hanane Hajj Ali is an actress, author and cultural activist. She is a very well-known figure in Lebanon's culture and art scene. In 2005, she was chosen by Jean-Baptiste Sastre to play the role of the mother in "Les Paravents" by Jean Genet at the Palais de Chaillot in Paris. She was recently bestowed the Vertebra Prize for Best Actor at Edinburgh's Fringe Festival for her role in JOGGING.
Concept, text and performance: Hanane Hajj Ali
Art direction and scenography: Eric Deniaud
Dramaturgy: Abdallah AlKafri
Light designer: Rayyan Nihawi
Technical director: Karam Abou Ayache
Costumes: KALABSHA, Louloua Abdel Baki.
Graphic design: Danielle Kattar
Coordination: Marielise Aad
English translation: Hassan Abdulrazzak
French translation: Praline Gay Para
Subtitles: Ghina Hachicho