VIIRUS GUEST: Open call 2020-2021
Application deadline – 14 februari, 2019
Viirus verkar sedan hösten 2017 i ett nybyggt teaterhus på Busholmen i Helsingfors. Viirus nya lokaler ligger på Medelhavsgatan 14 och består av Stora Salen, Studio 1, Galleriet, Repetitionssalen samt Amfiteatern på innergården. Viirus hyr vid sidan om sina egna produktioner ut teaterlokalerna till olika kulturaktörer för gästspel, repetitioner och olika evenemang.

De nya lokalerna har bidragit till att teatern kört igång det kuraterade Viirus GUEST- programmet. Gästspelsplatserna lediganslås två gånger om året genom Viirus GUEST Open call-förfarande. Samtliga gästspel är hyresbaserade, vilket innebär att den gästande aktören erlägger en skälig hyra för utrymmet och erhåller i sin tur biljettintäkterna i sin helhet. Vi strävar till att besvara samtliga ansökningar inom två månader efter deadline för ansökan. Beslutet om repertoarval fattas av teaterns konstnärliga kollektiv i samarbete med programproducenten.
Observera att Viirus utöver det kuraterade Viirus GUEST-programmet också hyr ut teaterlokalerna både för kortvariga och långvariga utrymmesbehov, t.ex. repetitioner, workshops, seminarier, konserter, filminspelningar, utställningar och diskussioner. Förfrågningar behandlas fortlöpande, kontakta programproducent Mirkka Maikola för närmare information (+358 505437841, mirkka.maikola@viirus.fi).
Ansök om att gästspela på Viirus spelåret 2020-2021
Vi söker konstnärligt högklassiga, professionella produktioner till gästspelsrepertoaren. Utöver gästspelsförslag är vi också öppna för olika samarbetserbjudanden, intressanta idéer och programförslag. Projekten kan vara kortvariga (t.ex. några timmar eller dagar) eller sträcka sig över en längre period (från en vecka till flera månader).
Kriterierna för medverkan i Viirus GUEST-program 2020-2021 är följande:
• Produktioner som utmanar vedertagna konventioner eller på annat sätt är nya, överraskande och intressanta
• Urpremiärer, inhemska premiärer eller produktioner som inte har visats i Helsingfors tidigare
• Angelägna produktioner som behandlar viktiga samhälleliga teman
• Projekt och produktioner som främjar språklig och kulturell mångfald och/eller som behandlar jämlikhetsfrågor
• Produktioner som är nya och innovativa i sitt sätt att använda scengolvet eller andra utrymmen
• En produktion eller en produktionsprocess som aktiverar områdets invånare
Ansökan för Stora Salen riktar sig i första hand till produktioner för år 2021 och för de övriga utrymmen för produktioner under perioden 2020 och 2021. Viirus Stora sal har lediga tider i april-juli samt i november och december. Gästspel och repetitioner i de övriga utrymmena är möjliga året om. Deadline för ansökan är 14.2.2019.
Länk till den elektroniska ansökningsblanketten
Ansökan ska innehålla en kort projektplan och information om arbetsgruppens sammansättning. Tekniska detaljer och övriga behov (t.ex. antal läktarplatser) samt önskad hyrestidpunkt bör också framgå. Till ansökan kan bifogas även annan information som bidrar till att klargöra vilken typ av projekt som avses. I fråga om färdiga produktioner ber vi att ni skickar in en videoupptagning.
Frågor gällande ansökningarna och lokalerna riktas till programproducent Mirkka Maikola, +358 505437841 (kanslitider), mirkka.maikola@viirus.fi
Info om teaterlokalerna
Stora salen: 350 m2, bredd 15,7m, längd 19,8m. Rigghöjden 5,2m. Max 150 sittplatser med läktare på podier. Salens publikkapacitet utan läktare är max 300 ståplatser. Möjligt att köra med stor paketbil intill backstage (höjd max 2,7 m). Ljus- och ljudteknik är tillgänglig enligt avtal (till exempel vanliga scenstrålkastare, rörliga och statiska led-strålkastare samt ljudsystem).
Studio 1: 58 m2, bredd 5,8m, längd 10m, Rigghöjden 2,9m. Vanliga scenstrålkastare, basljudsystem (left-right), i taket ungefär 1x1m grid, riggning 100kg/m2. Publikmängd max 30 sittplatser. I studion finns låsbara skåp.
Repetitionssalen: 57 m2, bredd 6m, längd 7m (tomt golvutrymme), höjd 2,7 m. Ett minikök finns till förfogande. Salen är ej lämplig för föreställningar.
Galleriet: 115 m2. Aula- och gallerirummet har stora fönster rakt mot Medelhavsgatan och passar speciellt bra för konserter, seminarier, klubbar, performance-tillställningar och andra tekniskt lätta evenemang. Teknik enligt överenskommelse. Modifierbart möblemang. I lokalen är den totala publikkapaciteten 80 platser fördelat på sitt- och ståplatser. I galleriet är beställning av bar och utskänkning möjlig.
Amfiteatern: utescen, halvcirkelformad. Scenens storlek 16 m2, läktaren 100 m2, publikmängd max 100 sittplatser. Utescenen har ej fast teknik.
Förbindelserna till teatern är utmärkta. Spårvagn nr. 9 stannar rakt utanför Viirus och spårvagnarna 6T, 7 och 8 på ca 300 meters avstånd. Gräsvikens metrostation ligger på 5 minuters promenadavstånd.
HIGH FEST International Performing Arts Festival
Main festival in the countries of the former USSR (outside of Moscow)
1 – 10 October 2019 / Yerevan, Armenia (Seventeen Edition)

Application deadline – March 15 th , 2019
We are pleased to inform, that the HIGH FEST International Performing Arts Festival welcomes
performing arts companies and artists to present their productions in all genres of performing arts
including theatre (drama, comedy, mime, movement, circus, street performances, puppet/marionette,
fingers theatre, visual etc.), dance (contemporary, modern ballet, folk, classic etc.), music (opera,
classical, musical, contemporary, jazz, folk etc) and other forms of performing arts.
For further info:
E-mail: info@highfest.am
Web: www.highfest.am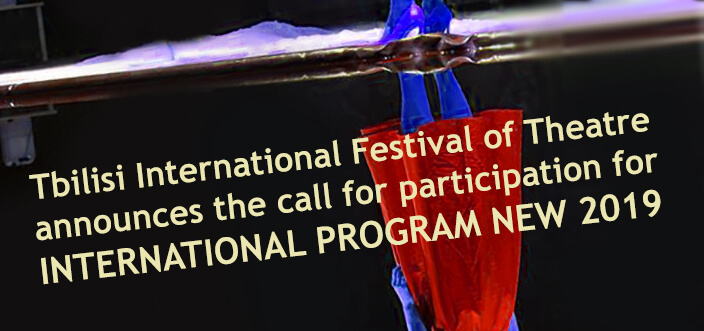 Application deadline 15 april 2019
Program NEW was presented to the Georgian audience as a part of International Program with an aim to attract new to international scene and emerging artists, to challenge the audience with different forms and disciples of contemporary arts and the same time to encourage artists from all around the world.

With numerous suggestions from different companies NEW is getting more popular from year to year.

Since its first days, every edition and its artist make the idea of NEW successful.
NEW hosted great companies and artists from Israel, Poland, Lithuania, Argentina, Romania, Germany, Finland, Russia, India, Denmark, Slovenia, Armenia, South Korea, Azerbaijan, Norway, Hungary, Sweden.
So, this is announcement for participation in program. Theatre, Circus, Dance, Street Art, Installation and Digital artists and their companies are invited to discover Georgia, meet the most magical audience and promote their work internationally!

We also would like to inform you that this year, the festival will announce special prizes for the companies:
The Special Prize of Georgian Theatre Critics Association and
"Caucasian Business week" newspaper special Prize.
Have a look at CONDITIONS for participation!

The Deadline for call of applications – April 15, 2019
The program is based on selection;
The organizers will select productions of official invitations and a certain number of productions as fringe productions, for which applicants can bring their productions at their own expense.

Selected performances will be announced by e-mail not later than April 25, 2019

For selected participants festival provides following:
– Venue and technical support
– General publicity
– Accommodation during the stay
– Airport transfers
– Per-diems (25 USD per person per day)

Please take into consideration following points:
– The set-up day and performance day will be appointed by the festival and it varies from 2 to 3 days, accommodation is set accordingly;
– TBS international does not cover your travel costs and does not provide an artistic fee.

How to apply:
– We receive online application forms only.
– Please send filled application form together full DVD record of performance on vimeo and the requested appendixes to: new@tbilisiinternational.com(Download The Application Form)
Playwriting workshop with Simon Stephens
23-­‐24 June 2019
Promoted: by Lyra Teatro
Where:

TheArtLand Fabbrica del Vapore, lotto 10 Via Giulio Cesare Procaccini 4, 20154, Milan.
Contacts:
www.lyrateatro.it
info@lyrateatro.it
Here's the link to the facebook event: https://www.facebook.com/events/378024499655925/
"We need stories again. In a time of poverty, we need our storytellers do their work properly. It is only through lightness, fun and anarchy that we can really investigate the darkest areas of human existence. So we investigate horror with lightness and play."
After the great workshop we hosted last June, with attendees from Italy, United Kingdom, France, Belgium, USA and Poland, and after the great success of his play The Curious Incident of the Dog in the Night-­‐Time, viewed by over 20000 people at the Elfo Puccini Theatre, Simon Stephens will be back at The Art Land (Fabbrica del Vapore, Milan) for another two-­‐day workshop.
The great British playwright (one of the most prominent in the last 20 years!) will continue what he started in last year's workshop, sharing his personal and fascinating perspective on playwriting with exercises and food for thought for group discussions, and focusing on stories and the need for irony, surprise and honesty. It is a unique opportunity, for beginners and experienced writers alike, to study with a brilliant and engaging master really passionate about his job.
"Thoughts, laughs, notes and inspirations from the workshop are still frequently in my head. As per Simon's definition of nostalgia (something from the past which was interrupted and we wish would continue), I already feel nostalgic." ― one of the attendees from last year's workshop.
The number of participants is limited to 15 and the workshop will be held in English: a C1 written and oral proficiency level is required for all attendees. To submit your application, please send us an email with your artistic CV and a link to a self-­‐presentation video in English. Please write "Workshop Simon Stephens 2019" as a subject line and send your application to info@lyrateatro.it by Friday March 30th. All candidates applying to this call will be informed by mail about the outcome of the selection process by Monday April 15th. For attendees not living in Milan, we will be glad to assist in finding affordable accommodation.
The participation fee for the workshop is 200 Euros.
SIMON STEPHENS Simon Stephens (Manchester, 1971) is one of today's leading playwrights, with more than 30 plays written over the last 20 years. His works have been staged by the most prominent theatres in the UK, US, Canada, Holland, Germany and Eastern Europe. Having taught at the Young Writers Program of the Royal Court (2001-­‐2005), he is now Artistic Associate at the Lyric Hammersmith in London, where Morning and Three Kingdoms opened in 2012, and of the Step Company in Chicago, that staged the US premieres of Harper Regan and Motortown. His adaptation of Mark Haddon's novel The Curious Incident of the Dog in the Night-­‐Time won the Oliver and Tony Awards for Best New Play. In 2014 Simon premiered Carmen Disruption at Deutsches Schauspielhaus in Hamburg and Birland at the Royal Court. His adaptation of Chekhov's The Cherry Orchard also opened at the Young Vic in 2014. In 2015, Heisenberg opened at MTC in New York; The Funfair, Simon's new version of Ödön von Horváth's Kasimir und Karoline, opened at Home Theatre in Manchester; and Song from Far Away, directed by award-­‐winning Belgian director Ivo van Hove, received its UK premiere at the Young Vic. His version of Brecht and Weill's The Threepenny Opera opened at the National in May 2016. In 2017 Nuclear War opens at the Royal Court, his English language version of Obsession opens at the Barbican, Fatherland opens at the Royal Exchange Manchester, his new adaptation of The Seagull comes to the Lyric Hammersmith